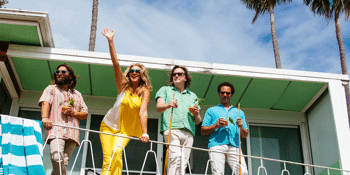 Code One Presents
CANCELLED - The Soul Movers
Ziggy Pops (Newmarket Hotel) (St Kilda, VIC)
Saturday, 29 January 2022 6:00 pm
Join Murray Cook (much-loved ex-Red-Wiggle), Lizzie Mack and their sensational Soul Movers, with groovy locals Ivy Streep, for a rockin' night out at Ziggy Pops on Saturday, January 29 from 8pm!
With a brand-new "three cheeses" EP 'Not Putting It Down' (ABC Music/ all streaming platforms) and a killer live line-up, The Soul Movers' music swirls together all the best sounds of the 1960's with the funky flavour and cool satins of the 1970's - with help from extra special guest, Tony Mitchell (Sherbet) on bass guitar!
So grab your tickets and your besties, and wiggle on up to Ziggy Pop's to get your soul stirred and body shakin' - a guaranteed funnest time ever.
_____________________________________________________________________________________________
Important Information For All Ticket Holders
: All ticket holders must acknowledge that the venue is or may become subject to public health orders or advice providing that patrons are vaccinated, are medically exempt from vaccination, or are able to provide evidence of their Covid-19 free status prior to entering the venue. It is a condition of the booking that patrons abide with any Covid-19 checking-in or verification procedures that the venue implements to address the public health orders or advice. For more information visit https://www.ausvenueco.com.au/safe-socialising-policy/