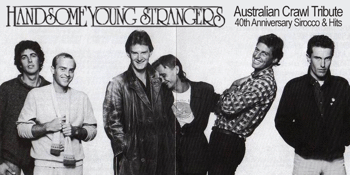 Code One presents ..
Handsome Young Strangers & Friends: Australian Crawl Tribute (40th Anniversary Sirocco & Hits) - Late Show
Brass Monkey (Cronulla, NSW)
Saturday, 21 August 2021 8:30 pm
Sydney's Australian Bush Folk Punk stalwarts 'Handsome Young Strangers' have been dishing out traditional folk songs and originals for 17 years. This time they've teamed up with a few members from local legends 'Grizzly MacDuff' along with Folk Punk Piano maestro 'Ess-Em' to celebrate the 40th Anniversary of the release of the classic Oz Crawl Album, Sirocco.

Expect the album in full followed by a set of other Australian Crawl hits (and maybe a few rarer tunes that might not have made the charts but deserve to be heard). We've never never done this before so come down to the Brass Monkey and be the first to witness a cracking show!