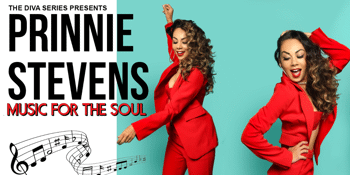 Code One
Prinnie Stevens - EARLY SHOW 6.00PM
Manly Leagues Club (Brookvale, NSW)
Friday, 27 November 2020 5:30 pm
DOORS: 6.00pm
STAGE TIMES:
Prinnie Stevens (7.00pm – 8.30pm)
"Music for the SOUL" "A SOUL RnB celebration from Prinnie " A night for the SOUL with Prinnie Stevens . Come and enjoy a Celebration of RnB SOUL Divas , its set to SOOTHE the SOUL, covering all the Great Soul RnB Divas of our time. Prinnie is one of the most sort after LIVE performers in the country. She has wowed audiences from st age to screen. From Leading Lady roles in The Bodyguard & HAIR the musical, to your TV screens in The Voice . Prinnies The DIVA series has continued to perform in front of SOLD OUT venues and we expect this to be no exception. With limited Tickets due to current restrictions , it is a MUST to get in e arly to get your tickets
We invite all attendees to wine and dine prior to the show, with the Club House Brasserie and the Golden Dumpling Noodle Bar boasting a wide range of menu items. Click here to check it out!