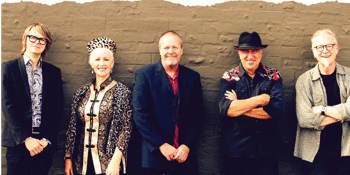 Code One presents..
Pacey, King & Doley - Late Show
Brass Monkey (Cronulla, NSW)
Saturday, 26 February 2022 8:30 PM
THREE ICONIC AUSTRALIAN MUSICIANS OF THE AUSTRALIAN BLUES SCENE, BROUGHT TOGETHER FOR ONE VERY SPECIAL SHOW!
When three of our best local Australian musicians come together, one needs to stand back and just savour the moment in time, this is going to be worth every moment.
SHANE PACEY has had over the last four decades, an outstanding career in music and with recent accolades from the Sydney Blues Society as 2019 Best Male Vocalist and 2021 Song Writer of the Year. This extraordinary talent is loved by audiences all over the country. Shane is also lead vocalist / guitarist and songwriter for the Bondi Cigars, Shane Pacey Trio, and the legendary Foreday Riders.
SALLY KING is considered blues royalty and a pioneer of women in blues in the Sydney blues scene. She has worked with the likes of Bo Diddley, Jimmy McGriff, Hightide Harris, Jacky Orzarsky. Sally is truly blessed with an irresistibly authentic voice that settles into the groove from the first note. Whether singing her own beautifully crafted songs or putting a unique stamp on classic - audiences warm instantly to Sally's vibrant stage presence. The fabulous Sally King is the real deal. Winner Sydney Blues Society "Favourite Female Vocalist" 2021
CLAYTON DOLEY is one of Australia's most in-demand singer, keyboard player and songwriters, brandishing all things Hammond and beyond. Clayton won the 2019,2020 and 2021 Sydney Blues Society Keyboard Player of The Year.
His skills' have brought him international recognition having shared the stage with some of the world's biggest names in music including Steve Cropper, Donald Duck Dunn, Joe Bonamassa, Dan Aykroyd, Jimmy Barnes, The Divinyls, Richard Clapton and Harry Manx, to name just a few.
PACEY KING & DOLEY together, are to be backed by a stellar rhythm section.
Featuring: DAVID GREEN on Bass Guitar & Vocals (Lana Cantrell, Hot City Bump Band, Seals and Croft, Sally King Band) & DAVO FESTER (Shane Pacey Trio, Glenn Cardier, Bondi Cigars, Foreday Riders) on Drums
This show is set to be an outstanding combination of pure magic, also featured this coming Easter @Bluesfest 2022
"This is a Blues Supergroup" said Peter Noble – Bluesfest (March 2021)
A World Class Band – with 4 part harmonies – and a Catalogue of Superb Original Songs – Infectious Rhythms