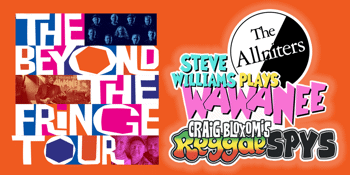 Code One presents..
Beyond The Fringe Tour: Steve Williams plays Wa Wa Née - The Allniters - Craig Bloxom's Reggae SPYS
Paddo RSL (Paddington, NSW)
Friday, 2 February 2024 7:00 PM
"Beyond The Fringe" Tour: A Once-in-a-Lifetime Musical Extravaganza Featuring Iconic 80's Bands WA WA NEE, THE ALLNITERS, CRAIG BLOXOMS REGGAE SPY'S

An opportunity like this comes around rarely, but when it does, it's an event of epic proportions. Three completely different bands from three entirely distinct musical genres, yet perfectly complimentary, are joining forces to take you on a journey back to the fabulous 80's – the heyday of Australian pub rock. This extraordinary one-off show, aptly named "Beyond The Fringe," is a musical spectacle you won't want to miss. Tickets are expected to sell out at lightning speed, so secure yours now!

In an era marked by vibrant haircuts, unforgettable music, and the warmth of old friendships, "Beyond The Fringe" brings you an evening of nostalgia, camaraderie, and chart-topping hits. Wa Wa neeThe Allniters, and Craig Bloxom's Spy have been close friends for over 40 years, and their collective experience promises a night of Rocking reggae, skanking ska and fabulous Funk.

Prepare to be transported back in time as you bask in the glory of 80's classics such as "Stimulation "Montego Bay," "Don't Tear It Down," and countless more. With their combined catalog of ten top 10 hits, these bands are set to rekindle memories and ignite the dance floor with infectious energy and a live show you will never forget.

"Beyond The Fringe" is a celebration of friendship, music, and an era that left an indelible mark on Australian culture. This is a unique opportunity to witness a one-of-a-kind collaboration that may never happen again. Don't wait until it's too late – grab your tickets now, and be part of a night you'll remember for years to come.