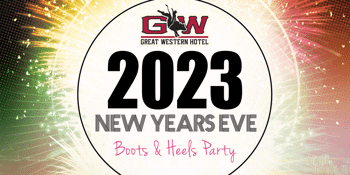 The Great Western & Code One Presents ....
Great Western Hotel Boots & Heels NEW YEARS EVE Party
Great Western Hotel (Rockhampton, QLD)
Sunday, 31 December 2023 5:30 pm
Step into the most colossal New Year's extravaganza Rockhampton has witnessed in a generation! Join the GWH Boots & Heels party, an unmissable event that will set the night ablaze.

Prepare to usher in the dawn of 2024 in unparalleled style as The Great Western hotel unveils a spectacular party. Our lineup is huge, ensuring your night is a non-stop thrill ride. Immerse yourself in the sonic waves with not one, but two electrifying live bands, complemented by a sensational DJ who will keep the dance floor pulsating with energy.

But that's not all – our bars are ample, ensuring your glass is never empty, and our curated drinks will tantilize your taste buds with an array of exceptional libations. Satisfy your culinary cravings with a wide selection of gourmet street food that will transport your palate to new heights of indulgence.

Don't miss the grandest party of the year – the GWH Boots & Heels Party promises to be an unparalleled spectacle, where memories are made, and new year begins in grand style!

Lineup Includes:
NEVER ENDING 80s - Australia's Ultimate Party Band
Coighty & The Kickstands
Live DJ
Access to exclusive bars
The Wine Garden Bar

Plantation Rum Bar

Margarita Cantina

The Western Whiskey Den
BEST I NEW YEARS I EVER
Whether you choose the exclusive VIP experience or General Admission, you are sure of an ultimate party night.
Book now for a fuss free, quality-filled and atmospheric experience to ring in the New Year and dance away your 2023!