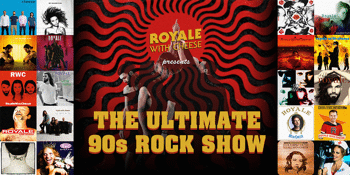 Code One Presents ....
Royale With Cheese - The Ultimate 90's Rock Show
Paddo RSL (Paddington, NSW)
Friday, 8 March 2024 7:00 PM
Royale with Cheese is AUSTRALIA'S PREMIER 90s ROCK SHOW, playing all 90s rock and pop covers – from Seattle-sound to Grunge to Britpop and all the best Oz Rock from the 90s.

Royale With Cheese is not just a covers band - it's a rollicking 90s party reviving one of the greatest and most influential decades in rock music.From Nirvana, Pearl Jam and Soundgarden to Radiohead, Blur and Oasis to Silverchair, You Am I and Screaming Jets to Red Hot Chili Peppers, Green Day and Blink 182, Royale With Cheese plays all your favourite 90s covers and is sure to make your 90s party a night to remember!

Come as you are to smash pumpkins and RAGE AGAINST THE 90s!