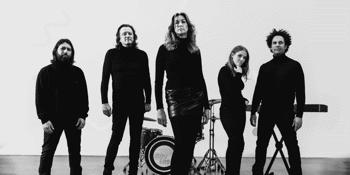 Code One presents
The Soul Movers - EARLY SHOW
Royal Hotel Queanbeyan (RHQ) (Queanbeyan, NSW)
Friday, 9 October 2020 5:30 pm
This will be the Early show | 5:30pm arrival for a 6pm start.
Dinner & Show packages include entry and a two course meal (Main course & dessert), alternate serve.
Please note: your table are booked accordingly to 2, 4 or 6 guests as a table.
Each below purchase option will allow you to buy one whole table. If you require more than one table per purchase please call our customer service team on 1300 762 545.
..

The Soul Movers are excited to be on the road again and sharing the very first new tracks off their upcoming album with folks at The Royal Hotel Queanbeyan.

The Soul Movers ranks include much loved ex-Red Wiggle Murray Cook, hid partner-in-soul the dynamic Lizzie Mack, legendary Lozz Benson on drums (John Bulter Trio/ Midnight Oil) with Marko Simec and Rodney Auld on keys and bass.

If you dig the beats of the 1960s and '70s, and occasionally dabble in some early '80s, enjoy a good yarn or even a bad Dad's joke then The Soul Movers have got a bag of gags and a spectrum of sound to warm and lift all bodies, hearts, and minds.

The Soul Movers don't get through town often (it's been too long!) so grab your tickets now to avoid disappointment - numbers are very limited - and on sale here now!