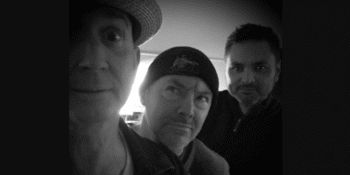 Code One Presents ....
Craig Bloxom's Reggae SPYS
The Heritage Hotel, Bulli (Bulli, NSW)
Saturday, 20 January 2024 7:00 pm
Aussie Rock with a Reggae Roll! Spy vs Spy bass legend and Senior Citizen Craig Bloxom is finally standing tall at the microphone again, heading a new 3-piece lineup, playing all your favourites from back in the day - with a reggae twist.

Reinventing the classic Spys hits in reggae format, ReggaeSPYS are the something old, something new vibe you never knew you needed.
Backed up by two talented reggae lovers - TK Tarawa from the evergreen Kaimai Mountains of New Zealand on guitar, and Young Chrissy Lowe from Cessnock on drums, ReggaeSPYS will be kicking off some live shows very soon.
Craig says the style might be new but they are keeping the fighting spirit of the Spys songs alive, tackling social injustice, racism and inequality with a new reggae voice & presentation.

"It's a trip back in Spy vs Spy time with a new Roots Rock Reggae sound full of fun and good vibrations."
Along with your favourite Spys songs ReggaeSPYS will also be playing a few other classics by well known Australian bands of the 80's... think Cold Chisel, Aussie Crawl & INXS - all with a dose of Rastafari.
Craig says that following the live shows look out for a new original song and recordings on the way.