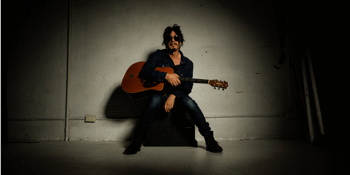 Code One &
Great Southern Nights presents Steve Balbi (Noiseworks & Electric Hippies) + James Van Cooper- MATINEE SHOW
Brass Monkey (Cronulla, NSW)
Sunday, 8 November 2020 12:30 pm
The past few months for the creative chameleon, Steve Balbi, has been time to peel-back yet another layer of skin to reveal an entirely new pigment – an iridescent sunburst orange in colour, melody and tone. This new fabric of songs, suitably titled I Think I Know For Sure, takes the form of a Limited Edition 12" Vinyl and CD. The record's second single – 'My Sunshine' – is out now.
"'Why don't people make music like they used to?" This is what I kept hearing," ponders Balbi, "so I did! It's my new single and it's called 'My Sunshine'. In fact, my new record in its entirety is reminiscent of days gone by. But a warning to all the kids out there: modern pop may implode upon listening, so parental guidance is recommended."
I Think I Know For Sure was produced by Balbi, who makes every noise on every song, with a little help from Pete Drummond (drums) on 'Sorry' and 'Make It Right'. Featuring seven songs that posit us back to the future, this new fabric of material was woven and written in its entirety by Balbi, at his home studio in Sydney, mixed by Tony Wall at Kiln, and mastered by Paul Gomersall in Byron.
The music of singer, composer, performer and producer Steve Balbi mines a kaleidoscope of life at the margins. Transcending rock and pop while coalescing sentimentality and soul, Balbi bespeaks Bowie and Dylan in melody and verse, exploring the heterogeneity, refinement and dirty rotten groove of Radiohead.
First cutting his chops on bass with Kevin Borich Express at just 17 years of age, the creative chameleon's species being was liberated when he cultivated an indelible production and song-writing partnership with Justin Stanley; founding and producing Aussie chart-toppers Noiseworks (1986), before forming Electric Hippies (1993). Numerous European tours, four multi-platinum award-winning albums, and various ARIA Award Nominations later, Balbi lifted his guitar from the rack to form Universe with Cathy Green (X) in 1996, working with Paisley Park's Susan Rogers. Move Trees and Moon emerged in subsequent years. In 2011, Balbi accepted an invitation to front 1980s new-wavers Mi-Sex, whose timeless classic, Graffiti Crimes, scooped the pool at the 1979 Countdown/TV Week Awards – winning Best Album, Best/Most Popular Single (Computer Games), Best Producer (Peter Dawkins), and Best New Artist.
Balbi's eclectic catalogue of production credits transcend genres, for the dynamic assemblage of artists that he's produced includes Noiseworks, Electric Hippies, Glenn Shorrock, Juice, Jenny Morris, Pearls & Swine, Toe to Toe, Vincent Stone, Fyre Byrd, Moon, and Christine Anu, among numerous others. And in 1999, Balbi sat in on vocals and guitar for David Bowie's Hours sessions alongside legendary producer Marius de Vries (Madonna, Björk, Rufus Wainwright, et al.).
Great Southern Nights is a new event to kick-start the recovery of the live music industry – featuring 1000 COVID-safe gigs across Sydney and Regional NSW, throughout November 2020 (Australian Music Month). Great Southern Nights is a NSW Government initiative, delivered by Destination NSW in partnership with ARIA. For more information, please visit greatsouthernnights.com.au