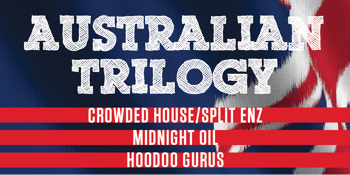 Code One
Australian Trilogy Show - Midnight Oil / Crowded House / Hoodoo Gurus - LATE SHOW - 9.00PM
Manly Leagues Club (Brookvale, NSW)
Saturday, 28 November 2020 9:00 pm
DOORS: 9.00pm
STAGE TIMES:
Australian Trilogy (9.45pm – 11.15pm)
AUSTRALIAN TRILOGY performs Hit after Hit from 3 of the biggest names in Australian Music. A 90minute party featuring all your favorite songs delivered by pro muso's that love what they do and boy it shows.
Australian Trilogy have been sweeping Sydney, NSW and beyond for the past couple of years and have built a strong following from all over. Paying homage to 3 of Australia's best loved recording acts.. Crowded House - Hoodoo Gurus - Midnight Oil.
Songs like 'Something So Strong' 'Distant Sun' It's Only Natural' 'What's my Scene' 'Like Wow Wipe Out' 'Miss Free Love' and from The Oils the likes of 'US Forces' 'Blue Sky Mine' 'Power & The Passion' and so much more! This show will have you feeling like a teenager again re-living the amazing 80's & 90'S in Australia!
We invite all attendees to wine and dine prior to the show, with the Club House Brasserie and the Golden Dumpling Noodle Bar boasting a wide range of menu items. Click here to check it out!