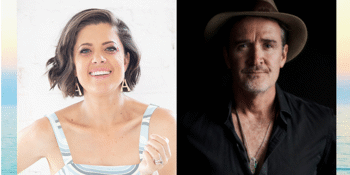 Code one presents..
Amber Lawrence and Luke O'Shea
Brass Monkey (Cronulla, NSW)
Thursday, 22 April 2021 6:30 pm
ONE NIGHT ONLY!

Multi Golden Guitar winners, Amber Lawrence and Luke O'Shea come together for 1 show only on Thursday 22 April at the Brass Monkey, Cronulla. They've been friends for years, even recorded and performed together, but it's been a long time between drinks so they jumped at the chance to do this one-off show, that will be one amazing night of storytelling songs, their hits, fan favourites and some fun banter.

Somewhere between John Williamson and Midnight Oil you will find the 13-time Golden Guitar recipient – Luke O'Shea - carrying on the ancient tradition of singing up country in a very unique and contemporary way. A powerful link between the old and new, black and white – a master storyteller who draws inspiration from the heartbreaking and humourous.

Award winning, Australian singer-songwriter, Amber Lawrence is one of the country's most celebrated and hardest working country artists. Having release 6 studio albums and 3 children's albums, Amber is always busy either writing, recording, hosting her own radio show, touring relentlessly around the country, mentoring up and coming talent at the Tamworth Academy and that's just scratching the surface, as she takes it in her stride.