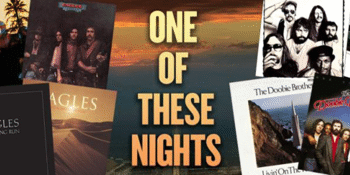 Code One presents
One Of These Nights – A Tribute to The Eagles & The Doobie Brothers
with Special Guests
The Heritage Hotel, Bulli (Bulli, NSW)
Saturday, 21 November 2020 6:00 PM
One Of These Nights – A Tribute to The Eagles & The Doobie Brothers

They say that music is the language of the soul, and nothing could be truer for this Tribute Show. Composed of a group of inspirational musicians and skillful performers, the artists behind ONE OF THESE NIGHTS present a unique show that takes you through a journey of the music of the EAGLES and the DOOBIE BROTHERS.

Both these multi million selling artists continue to touch fans with their distinct and enjoyable musical style and both are faithfully reproduced in this outstanding show to ensure a night to remember.