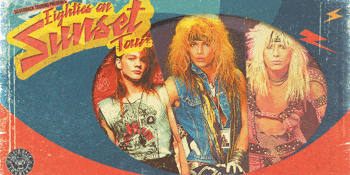 Code One
CANCELLED - Eighties on Sunset - EVENING SHOW
The Heritage Hotel, Bulli (Bulli, NSW)
Friday, 30 October 2020 8:30 pm
The Eighties. When music was fun, loud, not so serious and encouraged massive sing alongs. The Sunset Strip. The epicentre of debauchery and good times and the birthplace to the last bastion of good time rock 'n' roll, the glam and hair metal scene led by Motley Crue, Guns 'N' Roses and Poison. Together, they are the perfect formula for a throwback rock 'n' roll party to bring you out of those pandemic blues.

Eighties on Sunset is a national tour paying tribute to the sounds, sights and vibes of '80s hard rock. One of the poster boys of that scene, Bret Michaels, and his band, Poison, brought the Sunset Strip to the world in a good time rock 'n' roll fashion with a string of chart topping hits that played out as the soundtrack to the lives of many. Whilst Poison has not toured Australia for over three decades, Australia boasts the next best thing. Led by "Aussie Bret", the Australian Poison Tribute Show capture the essence of a Poison show, note for note, hit for hit, all with a front man that will make you look twice.

The Aussie Poison show headlines all of the Eighties on Sunset shows with a brand new show promising deep cuts and plenty of surprises. Joining them will be Iron Lion, Powerstryde (Melbourne only) and Propane Candy (Adelaide only) a trio of Australia's most formidable '80s rock tribute bands who will deliver the hits of Guns 'N' Roses, Motley Crue, Def Leppard, Motley Crue, Bon Jovi and more.