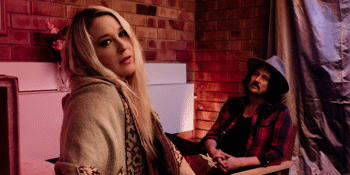 Code One
The Pleasures (Catherine Britt and Lachlan Bryan)
WILDFIRE MUSIC LOUNGE (GLEBE , NSW)
Thursday, 10 February 2022 7:00 pm
The Pleasures are Catherine Britt and Lachlan Bryan. It's a collaboration that began with a few late night texts and quickly spiralled into a feverish week of writing and recording in Melbourne, where the pair would dream up songs into the early hours, then head to the studio next morning to lay them down.
"Lachlan and I have always clicked in life and in song" explains Catherine, "and we've always had an unspoken understanding and respect for one another. These songs came so easy - they flowed out of us like a raging stream. I just want more honest, real music in the world and I couldn't think of a better person to make it with!"
With a new single out in January, the duo will come together for only a handful of orchestrated shows. The 'Beginning of the End', is full of the sass and spark you'd expect from this pairing. Themes of recklessness and lust abound. The track is heavy and satisfying just the way classic Country and Americana should be, but it'll stretch boundaries in terms of reach.