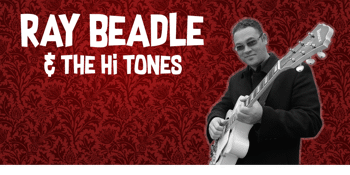 Code One presents..
Ray Beadle & The Hi Tones (Album Launch)
Brass Monkey (Cronulla, NSW)
Friday, 28 January 2022 7:00 pm
As a warm up to Thredbo Blues Festival in 2020 Ray Beadle hit the Brass Monkey stage with his big band The Hi Tones, and we hit the record button. The result, a true classic live album, "Ray Beadle & The Hi Tones - Live at The Brass Monkey", due for release Friday 28th January 2022.

The Hi Tones are an extraordinary lineup of artists, add Ray Beadle to the mix and you get pure musical magic.

For those yet to experience Ray's music, his guitar and vocal styles evoke numerous blues legends, whilst concocting a breathtaking style all of his own. Ray's life as a musician started when he was just 9 years old, and for the next 30+ years he has played with and learnt from the best, including many years performing and recording with the Foreday Riders, commonly regarded as the 'University of the Blues'. Ray has shared the stage with many of the greats, both here and overseas, and has thrilled countless festival audiences. A three month residency with the house band in BB King's Club in Memphis, as well as several Southern Blues festivals, were all defining moments during Ray's tours to the USA.

It's not by chance that he has become a favourite of Blues fans all around the world. An exhilarating guitarist, an enthralling singer-songwriter, and an extremely talented performer, Ray really is the genuine article. His music comes deep from the heart and soul, stirring emotions in people with his guitar genius. His music is rich with a deep history of the Blues. Rich from over 30 years of experiences garnered from performing Nationally and Internationally; and rich from a deep understanding of his instrument and how to make it stir something within the listener.

Don't miss this incredible show launching an album of music put down by a truly world class band of muso's doing what they love best, playing the Blues.