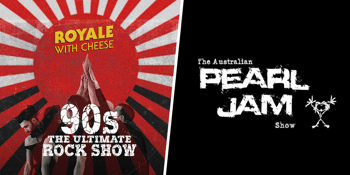 Code One
Royale with Cheese & The Australian Pearl Jam Show - The 90s Rock Double Header
Manly Leagues Club (Brookvale, NSW)
Saturday, 29 January 2022 7:00 pm
Two of the big 90's Tribute Acts, Royale with Cheese & The Australian Pearl Jam Show come together for a massive 90s Rock Double Header

Royale With Cheese: AUSTRALIA'S PREMIER 90s ROCK SHOW, playing all 90s rock and pop covers – from Seattle-sound to Grunge to Britpop and all the best Oz Rock from the 90s. Royale With Cheese is not just a covers band - it's a rollicking 90s party reviving one of the greatest and most influential decades in rock music. From Nirvana, Pearl Jam and Soundgarden to Radiohead, Blur, Pulp and Oasis to Silverchair, You Am I and Screaming Jets to Red Hot Chili Peppers, Green Day and Blink 182, Royale With Cheese plays all your favourite 90s Hits

The Australian Pearl Jam Show: August 1991. Seattle. Pearl Jam releases their debut album Ten. Selling 13 million copies and prefacing the arrival of the Seattle Grunge Explosion, Ten launched Pearl Jam into the stratosphere, and forever changed rock music.

The Australian Pearl Jam Show relives all the excitement, intensity and killer songs from one of grunge's most legendary acts. Alive, Jeremy, Daughter, Even Flow, Better Man, Given To Fly and many many more. Get your tickets now for an unmissable night of explosive rock. This is not a TV studio Josh!