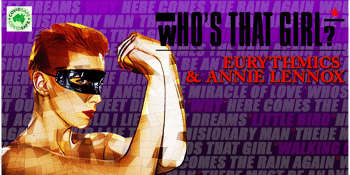 Code One presents
Who's That Girl? The Eurythmics & Annie Lennox Tribute Show - LATE SHOW
Brass Monkey (Cronulla, NSW)
Saturday, 5 February 2022 8:30 pm
Who's That Girl? Eurythmics & Annie Lennox Tribute show is very much looking forward to returning to The Brass Monkey Cronulla following their sell-out show last year!

Legendary duo Eurythmics (Annie Lennox & Dave Stewart) pioneered an era of techno/pop including EPIC hits such as 'Sweet dreams', 'Love is a stranger' later evolving into the soulful sounds of 'Thorn in my side' 'Missionary Man' and 'There must be an Angel' to name but a few. Eurythmics records achieved sales of over 75 million worldwide. Eurythmics have been awarded the best accolades in music including the Grammys, Ivor Novello, Hall of fame including several MTV & Brit awards
Annie Lennox solo career was launched by the quadruple-platinum album DIVA which brought amazing songs such as "Walking on Broken Glass" 'Why?' & 'Little Bird' showing Annie Lennox theatricality. Combined Eurythmics & Annie Lennox provide countless quality hits. Who's That Girl? Will be a night to remember.
A stellar 7 piece band featuring singer & actress Clodagh Reid of (Celtic Soul, The Australian Fleetwood Mac,) Paul Najar on Keys (Great Gig in the Sky) Nick Meredith on guitar (Johnny and the E types), Adam Nicholls on bass (Party Inc), Stephan Shafer on Sax, Luke Herbert on drums (Paul Kelly) and Soul singer Carmel Mesiti (Vanessa Amorosi)

Every song is a classic, every lyric is poetry and every moment of this will be magic!! Book early to avoid disappointment!