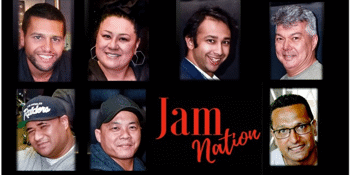 Brass Monkey (Cronulla, NSW)
Friday, 1 April 2022 7:00 pm
JamNation are not your standard band…. they play seriously cool music influenced by the masters of groove – Earth Wind & Fire, Steely Dan, Michael McDonald, Boz Scaggs, Doobie Bros and many more.
Focused on giving you the best soul and funk 'n' groove influenced music, JamNation are a powerhouse of great classics hits. With over 100 years of combined experience in performance and touring, JamNation has some of the best and most experienced musicians in Sydney, with a passion for what they do and it shows!
Whether you want to sit back and chill, or get up and boogie, JamNation will send you into a funkadelic abyss of Soul, Funk'n'Groove.