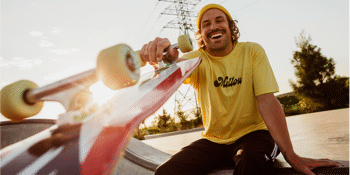 CODE ONE &
Great Southern Nights presents Mat McHugh + Dylan Wright - Late Show
Brass Monkey (Cronulla, NSW)
Friday, 27 November 2020 8:30 pm
Mat McHugh is The Beautiful Girls
What's in a name? South Carolina singer-songwriter Sam Beam launched his international career under the "band name" Iron & Wine. Canadian singer-songwriter Dallas Green similarly launched himself under the "band name" City & Colour. Californian singer-songwriter Mark Everett is the heart and soul of Eels, while the world knows Maryland's Bill Callaghan as Smog. Perth's Kevin Parker has conquered the world in his guise as Tame Impala. Israeli-born Australian singer-songwriter Rishon LeZion travels as Lior, while Belgian-born Australian singer, songwriter and multi-instrumentalist Wouter De Backer is far better known as Gotye. As it happens, fellow Australian singer, songwriter and multi-instrumentalist Mat McHugh is and always has been The Beautiful Girls, though for some reason, that fact seems to have often proven oddly elusive to fans and media alike.
"Even from the very early days," recalls McHugh, "when it all first started, it was a toss of a coin whether the project would be under my name or something else. I'd just come back from overseas in 2001 and the earliest incarnation of the songs were completely four-tracked, back in the day of four- and eight-track tape machines – pre-computers – and every part would be written – every drum fill, every bass line… I've always just heard fully formed songs in my head, and pretty early on, I figured out the easiest way to communicate them to people was to record them myself. Those tapes ended up in the hands of a couple of friends who agreed to come and play some shows with me. That was the beginning The Beautiful Girls."
Within a year, Mat had independently released two Beautiful Girls EPs – Morning Sun and Goodtimes – with the collective's debut album, Learn Yourself, released in 2003. From it's inception McHugh always operated The Beautiful Girls as a "collective" rather than a "band", a project in which various players came and went depending on what the music he was writing at the time required. The fact that American folk artist Mason Jennings sang lead vocals on one track on the debut album, while another American, Soul Asylum drummer Ian Mussington, added percussion to two tracks, is a perfect example.
"Writing the songs, I'd approach it like a playwright. I knew the 'actors' – the musicians – and I knew their strengths. So if I had a saxophone part, I'd know who I wanted to play that part and knew how they would play and I'd write for them. Similarly with drums and keyboards, I would write for that person, and then in an ideal world we'd all go out and perform that album, and that line-up would be different from album to album, from one tour to the next."
Look up The Beautiful Girls on Wikipedia and it describes them as "folk music, pop rock, alternative rock, reggae, dub and roots", which might seem all over the place, but the reality is that it's all of the above and much more.
"I grew up in a single parent low-income Suburb by the beach," McHugh explains, "and, while my mother was working, I spent a lot of time being raised by the surf and skate community. I'd always be hearing hip hop and reggae and punk rock on the soundsystem at parties and blaring out of the back of cars on the way to the surf. Now that I look back on it, and even when I started writing my own music, all these sounds kind of mashed together into one combined soundtrack for me. When it was my turn to contribute musically, I only ever wanted to make a sound that was representative of the sound that I was immersed in growing up. A mash-up of all of those styles that I loved would be, I figured, the perfect way to express my past, my present, and might help create my future. There wasn't really anyone doing something similar locally when I started. I was fooling around with my acoustic songs by adding dub bass lines and hip hop grooves on a beat up old drum kit in my garage. I was singing in a mellow style about my real feelings while all my other friends in bands were playing punk rock and screaming at the World. I still really love that stuff but I felt like my own musical expression lay elsewhere.'
McHugh's music was obviously a "mash-up" that struck a chord, not only in Australia but Internationally. Two years after releasing it's debut EP, The Beautiful Girls were touring Japan, Canada and the US. Throughout, McHugh kept writing, with another EP, Weight of the World, released in 2005, and a Brazilian musician, Felipe Kmiecik, joining the collective on keyboards, melodica and harmonica for the subsequent Australian tour. Kmiecik also featured on the second album, We're Already Gone, released in July that year and reaching #19 on the ARIA Album Chart as well as being nominated for an ARIA award, a Triple J 'J Award', and scoring a coveted spot on Richard Kingsmill's top 10 albums of the year list. Julia Stone was another guest vocalist on the album.
"As the music has evolved," McHugh adds, "it's become more about intensifying each of all the elements. To this day, I still have the same blueprint. There's always got to be this underpinning dubby rhythm and a certain propulsion to the groove. I try to keep the lyrics raw and real and to keep a punk rock spirit in the approach… All the elements, I feel, have just become more refined and better articulated over time. More life, more fire."
The third album, Ziggurats, released in May 2007, reached #21 on the ARIA chart and included I Thought About You, which was nominated in the 2008 APRA Music Awards in the Blues & Roots Work of the Year category. Along the way, The Beautiful Girls continued playing stages across Japan, the UK, Europe, Brazil, the US and Canada as well as Australia. By now, however, it was also becoming increasingly obvious to McHugh that there was so much music pouring out of him that he needed to release a 'solo' album, which he duly did – Separatista! Nonetheless, by 2010 The Beautiful Girls could look back on a dozen world tours in just eight years, no mean feat for any act but particularly impressive when you consider McHugh was doing it all independently – not a single major label or corporate sponsorship in sight!
Both 2010's Spooks and 2014's Dancehall Days albums debuted at #1 in the ARIA Indie Chart, while they reached #7 and #5 respectively in the US Billboard Reggae Albums Chart. And in between Beautiful Girls releases, despite being forced off the road once again – there'd been a motorcycle accident in LA in 2008 – this time by a ruptured appendix, McHugh also managed to squeeze out a second solo album, Love Come Save Me, in April 2012. By 2014, total Beautiful Girl album sales had reached 350,000 copies, and in the past decade, every song sung, every note played, every beat struck on a Beautiful Girls record has all been down to Mat McHugh.
"I think what's happened now," he says, "is that I've reached a style that I can call my own. I feel like it really sounds like me and it's honest and authentic. I can hear where I came from and how long it took me to get here," McHugh reflects. "Along the way there's been a lot of challenging both myself and the audience from one album to the next. A lot of restless experimentation to see how far I could stretch out. All I know is I feel super fortunate I've been given the support to be able to grow and get stronger over the years. In some weird way I feel like I've only, just now, reached the starting line. From the moment I first started writing music I've always felt that it's important to fight for each moment – that it's the only place where people, and songs, are truly alive. It's only after time has passed - I'm learning - that all these moments, someday, they all add up to something."
There's a whole album's worth of new music ready to go, but first McHugh is consolidating on the fact that, despite there having been no new release for a time, the World's streaming services have been picking up on the back catalogue with increasing fervour. That and the fact that last year's International tour celebrating the 15th anniversary of the release of the debut album was sold out has confirmed the love still felt for The Beautiful Girls in all its incarnations. So the plan is to release a 'Best Of', "a few tweaks here and there to freshen things up", as a double-album anthology titled "Volume One".
"The collection inevitably spans a wide genre base, songs you might remember that start in one place and end up in another yet all belong together. Then I can go forward from there," he suggests confidently, "with the The Beautiful Girls, the name of my solo project – as it always was."
So, what's in a name? Mat McHugh was, is and always has been The Beautiful Girls, and there's a lot more extraordinary music yet to come from the man behind the name.

Great Southern Nights is a new event to kick-start the recovery of the live music industry – featuring 1000 COVID-safe gigs across Sydney and Regional NSW, throughout November 2020 (Australian Music Month). Great Southern Nights is a NSW Government initiative, delivered by Destination NSW in partnership with ARIA. For more information, please visit greatsouthernnights.com.au