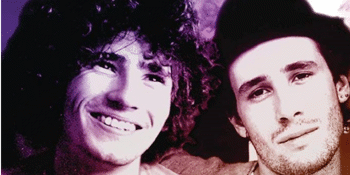 CODE ONE
Dream Brother – Tribute to Jeff & Tim Buckley
Brass Monkey (Cronulla, NSW)
Thursday, 21 November 2019 7:00 pm
Please Note: To book seated DINNER & SHOW tickets please call the venue on (02) 9544 3844 - All tickets sold through this site are General Admission. GA tickets are allocated for standing room only. A general admission ticket does not guarantee seating. All Shows Are 18+

On 29th May 1997, the world lost one of music's most talented artists who had an angelic voice and could hold an audience spellbound…Jeff Buckley. Twenty-two years beforehand, his father, the 60's folk troubadour Tim Buckley died on 29th June 1975. Tim Buckley too had been a brilliant and innovative musician with an extraordinary five octave range. Jeff Buckley not only innovated, with no-one successfully categorising his music into a "genre", but he also interpreted other people's songs and made them his own.

"Jeff Buckley was a pure drop in an ocean of noise…" ~ Bono

Jeff was 30 and Tim 28. Father and son, sadly lost to the world of music, far too young. We can only imagine what would have been… To celebrate their music and Jeff's birthday, some of the best musicians will come together for their tribute to father and son at The Brass Monkey Cronulla.

Merri Cyr writes of her first meeting with Jeff….."He was an amazingly talented performer and had the ability to recognise the creative potential in other people, a catalyst for other artists. You wanted to meet his talent with the best of yourself. In this regard he was truly inspiring."

Lee Underwood writes about his first meeting with Tim…."I liked him, thought his voice was fantastic, saw enormous talent and creative potential, quickly realised how smart, funny, charming and insightful he was , and decided to give him a go…"

This show does tend to sell out, so be quick this year and get your tickets early.