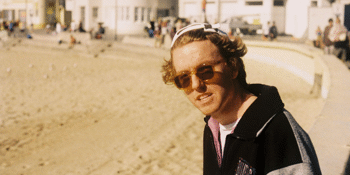 Code One
Nick Mackey & The Kenny Bruvas + Trash Springfield + Blood Blossoms
El Sol Mexican (Cronulla, NSW)
Sunday, 30 January 2022 6:00 pm
Fresh from a headlining gig in the Nation's capital, Nick Mackey, Trash Springfield and Blood Blossoms are teaming up once again for a night of great food and great music at El Sol. Blood Blossoms will open proceedings, followed by Trash Springfield playing songs from her newly released Early Signs E.P. Local lad Mackey will then close out the night joined by a full band playing his recent singles 'How Nice' and 'Exactly the Same.' A delicious Mexican meal of your choice is accompanied w/ every ticket purchased so come down to El Sol to celebrate the end of the year w/ some good food, some good drinks and some good tunes.

Nick Mackey breathes the coastal air of the ocean & creates it, in his unique blend of Surf Folk Rock music. Residing from the beachside town of Cronulla in Sydney, he has been Songwriting, Surfing and Skating ever since he was a kid. His latest single 'How Nice' captures all the elements of his youth & where he grew up living. Lucy Filetti, from Its Time to Talk had this to say about the song "Nick's 'How Nice' presents fresh and soulful tones – really painting a picture of a quaint Australian Landscape which paves the way for emotive lyrics to encapsulate listeners". Having had some time off during lockdown to record some new songs & harness he's sound, he's back playing live shows in Sydney, busking out on the streets & catching some waves in the surf!

Trash Springfield are a 3-piece band led by the front woman of the same name. Trash's raw, honest, and sometimes confronting lyrics are balanced by her catchy riffs and unique baritone. After years of performing around Sydney as a soloist, she now has a band together and has just released her debut E.P.

Blood Blossoms sit somewhere between folk, rock, and pop. While you'll hear lush strings, horns, and keyboard wizardry on any of their 3 albums, in a live setting a simple guitar and vocal is preferred. W/ 2 previous 2ser Album of the Week nods to their name and a 4th album currently under construction, Blood Blossoms are shaking off the studio tan and hitting the Sydney live music scene once again.