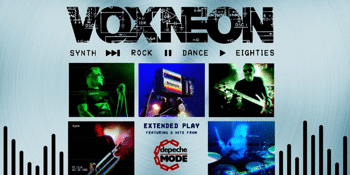 Code One presents..
Voxneon – Extended Play Tour
Paddo RSL (Paddington, NSW)
Saturday, 24 February 2024 7:30 PM
Princess Diana's favorite band, VOXNEON are set to storm Sydney in 2024 with their brand-new Extended Play show featuring hits from Depeche Mode along with certified anthems from 80's electronic pioneers like New Order, Simple Minds, Duran Duran, Pet Shop Boys, Tears for Fears, Underworld, Eurythmics, Gary Numan, INXS, Spandau Ballet and many more.

VOXENON recreate the signature sound of the eighties with vintage hardware synthesizers, live drums, guitars and total respect for the original artists. Audiences can expect pumping basslines, soaring keytar solos, dramatic vocals and a dazzling light show packed with more smoke and laser beams than a shootout on The Death Star.

An epic night of retro music and dance is absolutely guaranteed so if you've been longing for an authentic retro experience catch VOXNEON performing live at Paddington RSL on Saturday 24th February.